Manufacturing and Sales
Call Bruce on 0448 521 470
The Sonique S1 unit is for sale and comprises of the following:
Custom geometry Dodecahedron
Custom metal support frame
Custom stainless steel bed
Integral major meridian lighting, coloured accordingly
Integral digital sound via high quality headphones
Audio CD programs for use with the unit
Lighting program for use with the unit
Support documentation for facilitators
PC, audio & lighting control consoles
Head, knee, and ankle cushions
Arm cushioning material
Audio source DVD players
Residual current detector for all electrics
Assembled and tested, before being packaged for freight transport to location within Australia. These are custom made to order, depending on stock availability, and some components are not shelf items. The unit comes with sound and light programming, and is easy to operate, after the training of the buyer's facilitation person.
Cost: $6000.00 (comes with support warranty)
Cost of freight is borne solely by the customer. Cost of setup and useage instruction also borne by cusromer.
Potential customers are able to request data in support of the unit's efficiency, which is not available to the public, after expressed interest of purchase.
A Sonique S2 unit is envisaged and being planned.
Technical
The basic technical overview of what is used in a Sonique session, is oriented towards people who may understand the words and jargon employed in the description. Here I will split the technical description into the following categories, that of LIGHT, SOUND, & SPECIAL GEOMETRIC. It must be noted however, that it is not necessary to know what is used. It is similar to people who use a mobile phone, and who generally have little idea of the complexities that make them operate.
The ideal is to just experience a Sonique session, and then note how you feel afterwards. The phrase "The proof of the pudding is in the eating" – comes to mind here.
Light
The major meridians of the human body are each tuned to the frequencies of specific wavelengths of light. These may be referred to as angstrom units. The colours seen below (in the table) are computer generated and may not be accurate as a rendition. Visible light covers the range from 4,000 to 8,000 angstroms. Below we will use Nanometers in light conversion. There are ten angstroms in a Nanometer. Light is one of the most powerful forces in the universe, hence its use within the Sonique system. The frequencies of colour, are particular to the major meridians of the human body, and add to the capacity of the meridian to be more efficient in utilizing energy. As such, the major meridians can be thought of as being transformers of subtle energies down to earth vibration energies for the human body. Sonique uses primary colours and variations applied using tungsten halogen lamps. When suitable LED lamps are sourced with appropriate beam angles, they are easily fitted.
| | | | | | | |
| --- | --- | --- | --- | --- | --- | --- |
| Colour | | Mandala | Meridian | Frequency | Note | Organ |
| Red | | | Root | Red 647-700nm | C | Ovaried-Gonads |
| Orange | | | Sacral | Orange 585-647 nm | D | Spleen-Adrenals |
| Yellow | | | Solar Plexus | Yellow 570-585 nm | E | Liver-Pancreas |
| Green | | | Heart | Green 491-570 nm | F# | Thymus |
| Blue | | | Throat | Blue 424-491 nm | G | Thyroids |
| Purple | | | Third Eye | Purple 400-424 nm | A | Pituitary |
| Violet-White | | | Crown | White 400 – 750 nm | B | Pineal |
Sound Therapy
The Sound is specific for the major meridians and is specified in the last column. The technologies used are binaural. However, apart from the below tabled frequencies, many other variations are used which are highly specific. Sound is another of the power frequencies we use to address stress. It is said that "Next to silence, that which is most able to express the inexpressible – is Sound". To get absolute silence these days, especially in built up areas of human civilization, is an exception. Technology within sound is evolving to such an extent that the "volume" of the mind is able to be turned down, for radical stress alleviation, and natural endorphin release. Endorphins are natural body produced chemicals.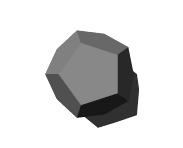 Sacred Geometry
One of 5 basic polyhedrons, is used with Sonique. A special geometric frame of copper is erected completely around the transparent bed which you lie on for a Sonique session. This is actually called a Dodecahedron, representing the regular division of 3-dimensional space, equilaterally and equiangularly. Being inside this shape has resonance towards subtle energies which help release blockages & ease stress. There are 12 faces, each with 5 edges. It has a numerological attribute with the number "5" for shifting blocked energies. Entry to the shape is by one of the side edge copper rods being removed, and then replaced after the client is settled on the bed.
The Special Geometry uses the 5th shape frame above, the Dodecahedron. This corresponds with the element Ether, and is powerful in moving blocked energies for release into a new level of awareness, earthing and clearing. Courtesy Shifting Sands
This is known also as "Sacred Geometry" and has had famous people studying their properties by Leonardo Da Vinci from Luca Pacioli's 'Divina Proportioni' (Divine Proportion) 1509. Courtesy Shifting Sands
The bed is made of stainless steel, with the reclining medium of high density marine plastic. It is essentially like a hammock to lie on, and with the cushions under the knees, ankles, and head, is very comfortable for what is intended.
"Calm, balanced, amazed, pleasantly rewarding, neck alignment, very energized, relaxed and pleasant, exhilaratingly calm with general well-being."
"A most pleasurable sense of contentment".
"I came to you as a skeptic, one who NEVER sits still and someone who can't close their eyes for more than one minute. And yet, here I was in your Sonique session, lying still for 40 minutes with my eyes closed (and not talking – a feat in itself!!!).
And what an amazing experience it was – so profound it is difficult to put into words.
The best description I can come up with is that I felt as if I was a Dolphin, swimming and playing in beautiful warm waters as beams of beautiful coloured light entered my body and seemed to spread peace and tranquility.
Pauline Clayton (Gold Coast)"
"Wow, total indulgence, transformational, felt one with the universe."
"Very meditative like the movie "Contact". I was OK to Go! and it was very much an "inner space" trip. My arms felt very warm and energised. It was a most blissful experience. I "went out" a couple of times. Jeremy Shaw (NZ)
"Still, calm, and left seated with a feeling of alignment".
"Definitely more relaxed, energised, and as if a few unnecessary burdens of daily clutter emptied into the light".
Dear Bruce,
About your session.
I found the whole session quite amazing. Within a few minutes I found myself dropping in to a deep state of relaxation, while I was still aware of the fact that I was at the Health and healing fair. I noticed a very deep meditation state.
I have practiced meditation on and off since the early 1980's and have had many, many experiences of it. This session was particularly deep and the effects seemed to stay with me for about 3 weeks to a month. In a way it was like rediscovering my own paradise.
Though I always knew it was there I haven't been there so clearly and in such a relaxed state for a long time. As any meditation knows we don't really meditate for the experience as such, rather the state of peace and awareness that it brings. Well, there was a definite experience with the Biotuner, it was deep, very relaxing, beautiful and border line profound. I could actually feel the energy centres in my body somehow freeing up, releasing old stuff and coming back into alignment somehow, though I don't understand it. The clear memory of this experience is with me still.
I feel confident in recommending Bruce's Biotuner to anyone who needs some peace and relaxation and who wants an experience of being drawn back to their centre of balance.
Of course we are all different and on a bad day I'm sure my mind could block almost any thing so I would recommend just to sit back and watch the breath and lets any thoughts go, just keep letting them go.
Thanks again, David Kyd.
I loved the music. The initial piece helped me to relax and move into a very gentle space. The session helped me to completely release what was still held in my heart chakra, and know my present life experience in meditation.
The meditation helped me to re-connect with many aspects of who I AM. While this was playing, I experienced being completely aware of what was happening to my body. At the time, I felt pain releasing especially in my left side of the body. (I understood this to be a release of contracted energy lodged on the left side).
The other experience of course becomes hard to describe in words - my consciousness was in space, formless and experiencing what I perceive to be "I AM". (Gold Coast)