Basically, I am here to help, using whatever particular resource that is available to me. I am not here to convince you of any particular position, belief, dogma, but to share with you what is in my heart and being. Are you wanting to feel the Joy of existence as a default, and to embrace yourself and your life journey as an infinite choice?
Is it possible for You to feel a sense of Well Being that defies circumstance, and offers opportunity, beyond what your mind would have you believe by looking at the book's cover? The full appreciation demands the total reading of the contents.
I have to always relate to the truth, which has nothing to do with my mind or thinking. The truth is initially an evolving journey, at least to myself, until a point where the mind cannot understand, and so the saying "and the Truth will set you free". But that is a long story, or stories, and my job is to set you on your own truth journey.
I have been through many layers of fear, anger, and grief in my past human experience, so can relate to a lot of people in regards to their own, especially as a man. I have been sexually molested, rejected by my father, suffered mental abuse and been dumped on as a scapegoat, felt abandonment, financial failure, and have been judged and accused by peers and "friends". I have contemplated suicide too.
If I do not share to you the outcome after all these negative experiences, and the associated depression, on arrival at where I am now in Being, I would not be doing my duty to the planet.
So do I have a mission to make the world a better place? Not in terms of some structured final resting place, but as a natural evolvement of choice. Would I suit your particular problem solving around your circumstances? It depends on your being, your feeling and resonance to myself that is important. If I represent the KEY for your new journey, then so be it.
You are always at choice, to walk away and judge me as being the biggest idiot you have ever met, or, perhaps expand into a more real you?
If you do choose me to journey you, do not for one moment believe that will be like "instant coffee". It demands work, commitment, and bravery. Pain is always waiting in the wings, to give relativity to the pleasure, a necessary balance. Male-female, up-down, hot-cold, war-peace, all sides of the same coin of existence in this world.
I am here to facilitate a state of Being far removed from general consciousness, the status quo, the herd mentality, if you choose to be different.
It would be an outrage for this planet to be destroyed as a beautiful life supporting environment, if consciousness is not in evolution.
As I engage my energy sharing this gift, the planet will reflect to being a more life giving, climate settling, environmental friendly ally, as humankind respects this world.
And so to your choice – do you wish to journey with me?
Testimonials
"Wow! Bruce is an example of 'still waters run deep'.
He is a powerhouse of wisdom through experience. His gentle nature hides his strength.
He is a confident, deliberate, engaging, relaxed speaker/presenter, who delivers his message in a quiet, informative, lighthearted manner.
He facilitates by being the calm, supportive presence that he is. He also uses light and music.
He is highly intuitive, and uses this ability to good effect in your healing journey.
I am looking forward to learning more from him.
Thanks Bruce for shining your light in the world!"
Sandy G
"Bruce, Thank you so much for sharing your true self during your class. Bruce has a deep loving and peaceful energy. I felt very safe and loved in his presence. Bruce is a wonderful teacher, natural healer, and is much needed in this world we live in. Sending many blessings and love to you on your journey. Love you Brother."
Michael
"Calm, balanced, amazed, pleasantly rewarding, neck alignment, very energized, relaxed and pleasant, exhilaratingly calm with general well-being."
"A most pleasurable sense of contentment".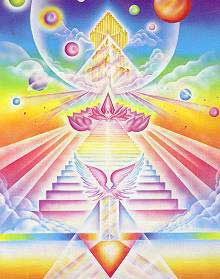 "I came to you as a skeptic, one who NEVER sits still and someone who can't close their eyes for more than one minute. And yet, here I was in your Sonique session, lying still for 40 minutes with my eyes closed (and not talking – a feat in itself!!!).
And what an amazing experience it was – so profound it is difficult to put into words.
The best description I can come up with is that I felt as if I was a Dolphin, swimming and playing in beautiful warm waters as beams of beautiful coloured light entered my body and seemed to spread peace and tranquility.
Pauline Clayton (Gold Coast)"
"I felt quite removed from the everyday world outside & cocooned in a very private space, felt deeply relaxed and centered, this feeling maintained through the next day."