Anything has far greater possibility of coming into your life experience, if coming from an INTEGRATION with Source, God, Ultimate Self, The Great White Spirit, The Universe. I'm sure that there are other labels that you may wish to add or use in place of the former, but in its essence, there is only the ONE creative force that all the labels which may be from cultural tradition emanate – Unconditional Love.
This Love is uniquely sensational as energy pristine, and keeps the creation sustainably together. It is utterly indescribable from the mind, and as my own experience of it is remembered, never forgotten. The mind can only offer analogies.
Most people in their lives think or believe that their mind is creating their life, and in a sense it is, but in a negative way. But that doesn't seem to be going well for most of the people observed on planet Earth, and I'm here to tell you and/or coach you into creating your life from 6 anchor points of Source (unconditional love) that integrate you into the Truth of who you really are. Imagine what your transformed life would be like if creation was available to you as part of your birthright?
The only catch is your mind/ego, which is totally scared of Source, and which it can never describe or place in a box with a label.
Once started on this path, there is EXPANSE into a constantly evolving life of infinite possibility. You move from the ego of separation into "The Ego that was originally Divine", self awareness that keeps a species from giving their lives to the whole community.
An example from nature would be that if there were less crops for rabbits to eat, they procreate less that year in order to be in alignment with the diminished food supply.
True life creation is dependent on the inner vibration of the Being, of the degree to resonance with Truth. If you were a computer, your mind/ego software would be "outdated" and in need of an upgrade.
| Potential Benefits from… | …To |
| --- | --- |
| Separation | Connection to Oneness |
| Stress | Being relaxed |
| Reactive defence mindset | No fight/flight status |
| Memory of the past negatives | The Now as it is happening |
| Fear of being alone | Understanding that we are never alone |
| Family and friends judgement | Non-judgemental |
| Trapped by your circumstances | Embracing all possibilities |
| Conditional love | Embracing unconditional Love |

To move from a limited trapped life into one of infinite choice possibilities is not usually instantaneous. You mind/ego will fight back, as it fears its own demise, and will rally your past memories power to resist changing from the status quo, something it can label, and into a life it cannot imagine.
This is why I am here to coach you through this process, to guide you away from being trapped, into the EXPANSE of your true self.
The outdated mind/ego is the winner of "scam of the universe award" and uses its trophies to try to keep on selling to you its version of life, the best ever "fake news" internal TV station broadcasting 24/7. It's time to consider experiencing CHOICE, over automatic belief from the past. Past has passed, the future is a blank page, the most important instance is NOW!
| | | | |
| --- | --- | --- | --- |
| EGO/MIND | Automatic belief | Experience automatic belief | Validate this is what is |
| SOURCE | Choice | Experience choice | Validate this is what is |
Sessions with me
You are able to deal with something you wish to address specifically on an hour by hour basis. A more in depth ongoing number of sessions are available to address a more acute situation, say on a monthly basis.
This may be one on one in person if you are able to visit me locally, or it may be on a Skype link or phone.
Financial Consideration
My charges per hour are $250.00.
Call Bruce on 0448 521 470 for details regarding attending person to person (Murwillumbah) or connection online.
Payment available direct deposit to Sonique Services account: CBA 064-432 | 10224910
Payment available directly to PayPal account at soniques@tpg.com.au.
"Calm, balanced, amazed, pleasantly rewarding, neck alignment, very energized, relaxed and pleasant, exhilaratingly calm with general well-being."
"A most pleasurable sense of contentment".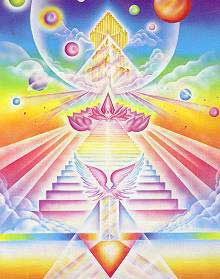 "I came to you as a skeptic, one who NEVER sits still and someone who can't close their eyes for more than one minute. And yet, here I was in your Sonique session, lying still for 40 minutes with my eyes closed (and not talking – a feat in itself!!!).
And what an amazing experience it was – so profound it is difficult to put into words.
The best description I can come up with is that I felt as if I was a Dolphin, swimming and playing in beautiful warm waters as beams of beautiful coloured light entered my body and seemed to spread peace and tranquility.
Pauline Clayton (Gold Coast)"
"I felt quite removed from the everyday world outside & cocooned in a very private space, felt deeply relaxed and centered, this feeling maintained through the next day."